Regular price
Sale price
$14.00 USD
Unit price
per
Sale
Sold out
Share
Fresh Herbs and a long story made short (you're welcome)...
Once upon a time, a young mom was trying a new recipe, got distracted, and burned the food she was cooking. The stench was amazing; the acrid burning smell permeated the house in a most unnatural and inhabitable way. Smoke alarms from all over town went off, neighbors and friends watched in horror as the meal was most definitely beyond saving. The young mother grabbed the blackened pan, smoke pouring from it and reaching unknown corners of her home, and threw it out into the yard like Wonder Woman, hurling an asteroid back into space. She flung open the windows the doors, turned the fans on, grabbed a towel, and began waving it wildly throughout the house in hopes to exorcise the foul odor. And yes, friends, she had to do it before the baby woke up. Once the smoke cleared, she sprayed a room spray (which will remain unnamed) around and gagged even more.
"What's worse?" she thought in disgust, "a room spray that smells worse than the foul stench of burning rice or?" Looking around at the mayhem, gagging once again from what was the scent of fake oranges wrapping themselves around smoke, she said, with a gasp..." I can do better," and with that, she set off to make a room spray using simple ingredients.
That, friends, is a true story. I know you'll be shocked to learn that the young mother in this tale is me. I crafted this room spray many years ago using organic rosemary, eucalyptus, and lavender. The scent is herbaceous, slightly sharp, and very clean. It is helpful if you are battling a headache, stress, and maybe experiencing the hideousness of burning dinner. I can't say it will cure everything, but it has brought me immense joy. That was over ten years ago, and it's still one of my favorite blends to craft. 
As a relaxing and natural way to alleviate stress, eliminate odors, and for cleaning, essential oils have been used for centuries. Use this spray on linens, in the car, or spray in a room to naturally lift your mood. We offer THREE sizes! Use the drop-down menu to choose the best size for you! 
Ingredients: organic eucalyptus, rosemary, and lavender essential oils, distilled water, witch hazel. Our sprays are phthalate-free and come in handsome amber glass bottles. The sprayer nozzle creates a fine mist spray. 
IMPORTANT: Do not ingest or apply to skin and/or mucous membranes. Keep out of the reach of children and pets. Keep away from heat sources. Please conduct a test application to
 

fabric

 

in a non-noticeable area before using it directly on fabric. Perry Home Naturals is not responsible for any mishaps or injuries from using any of our products. Our products are not intended to treat, prevent or cure any diseases.
View full details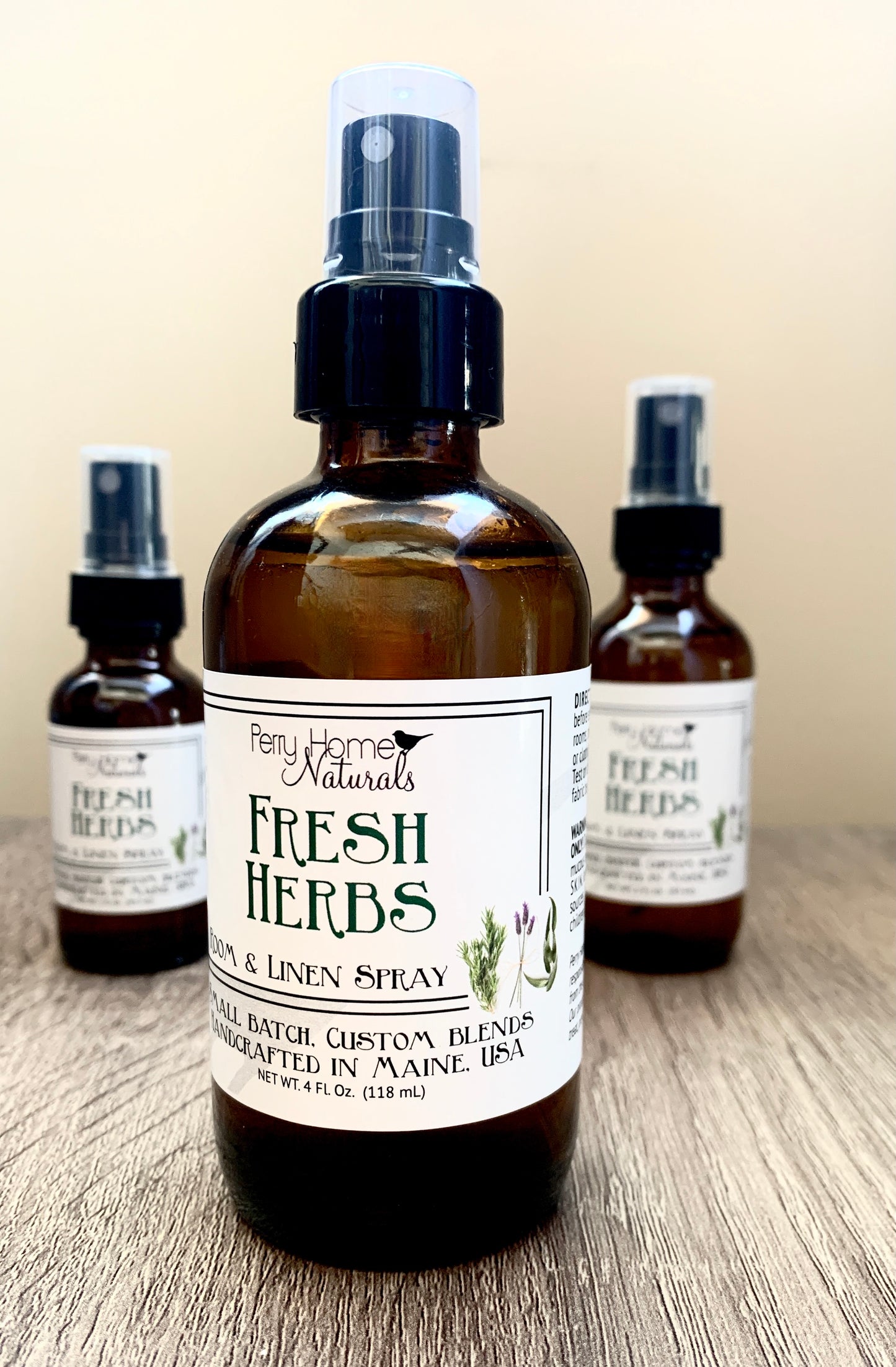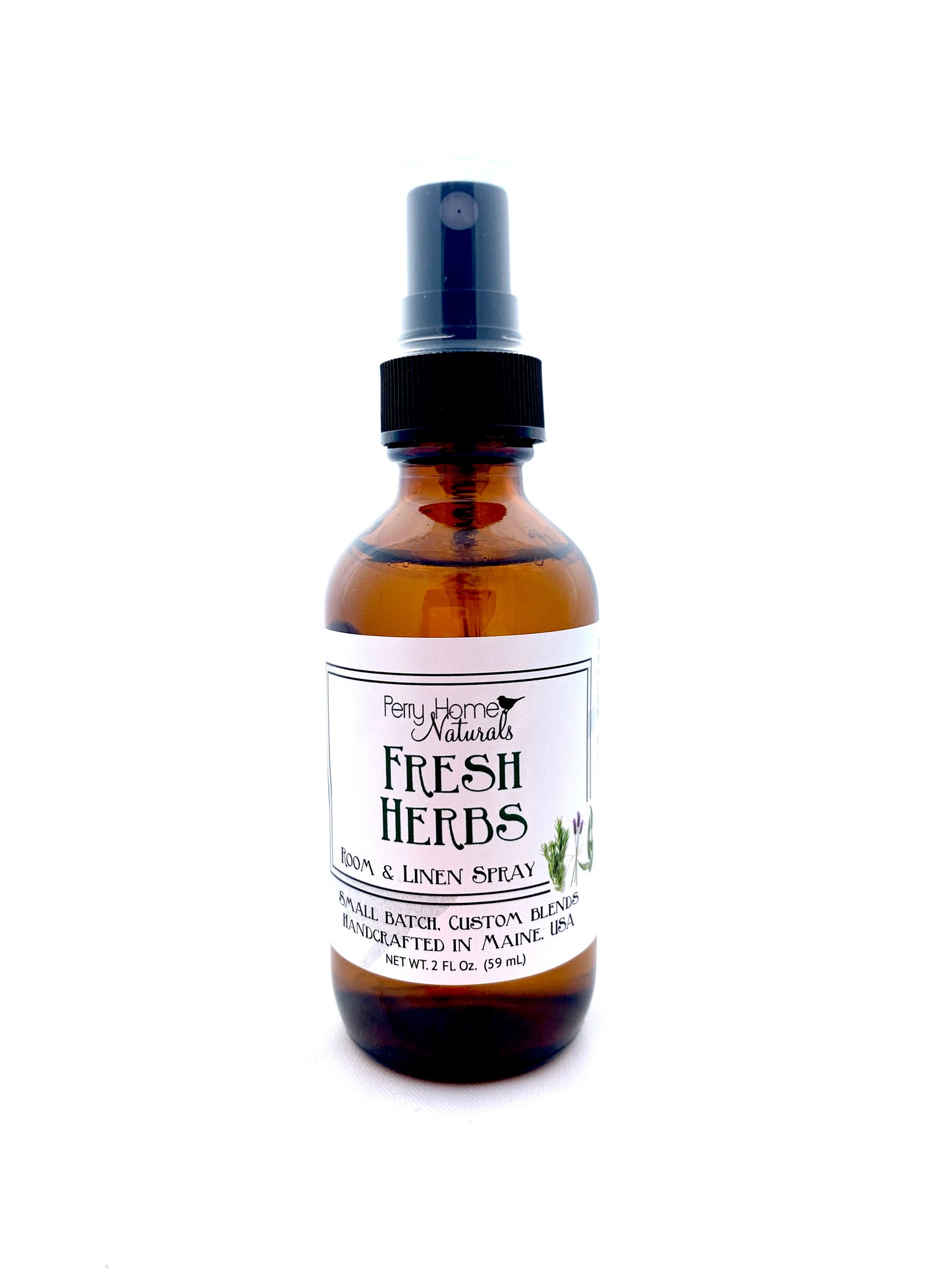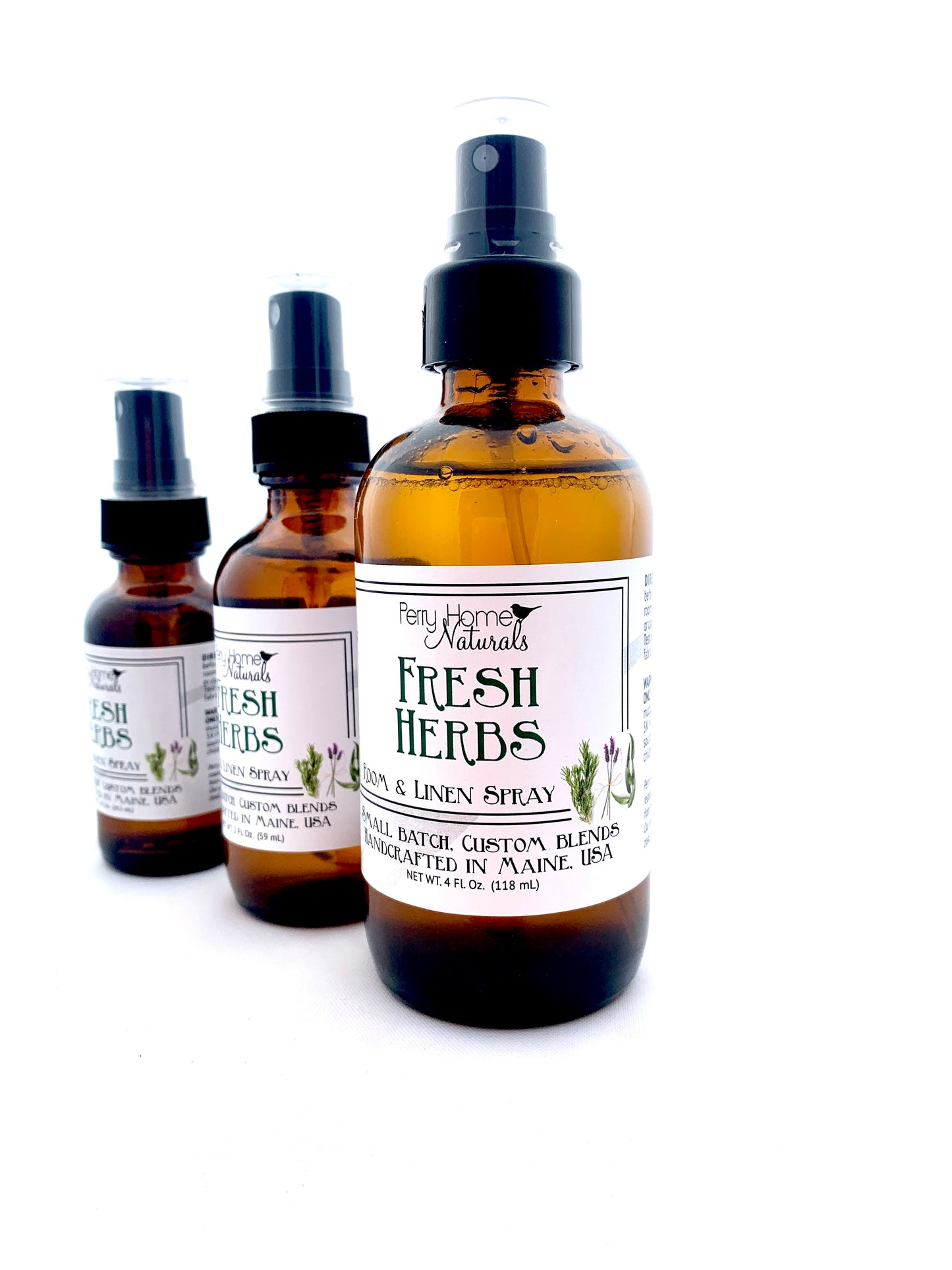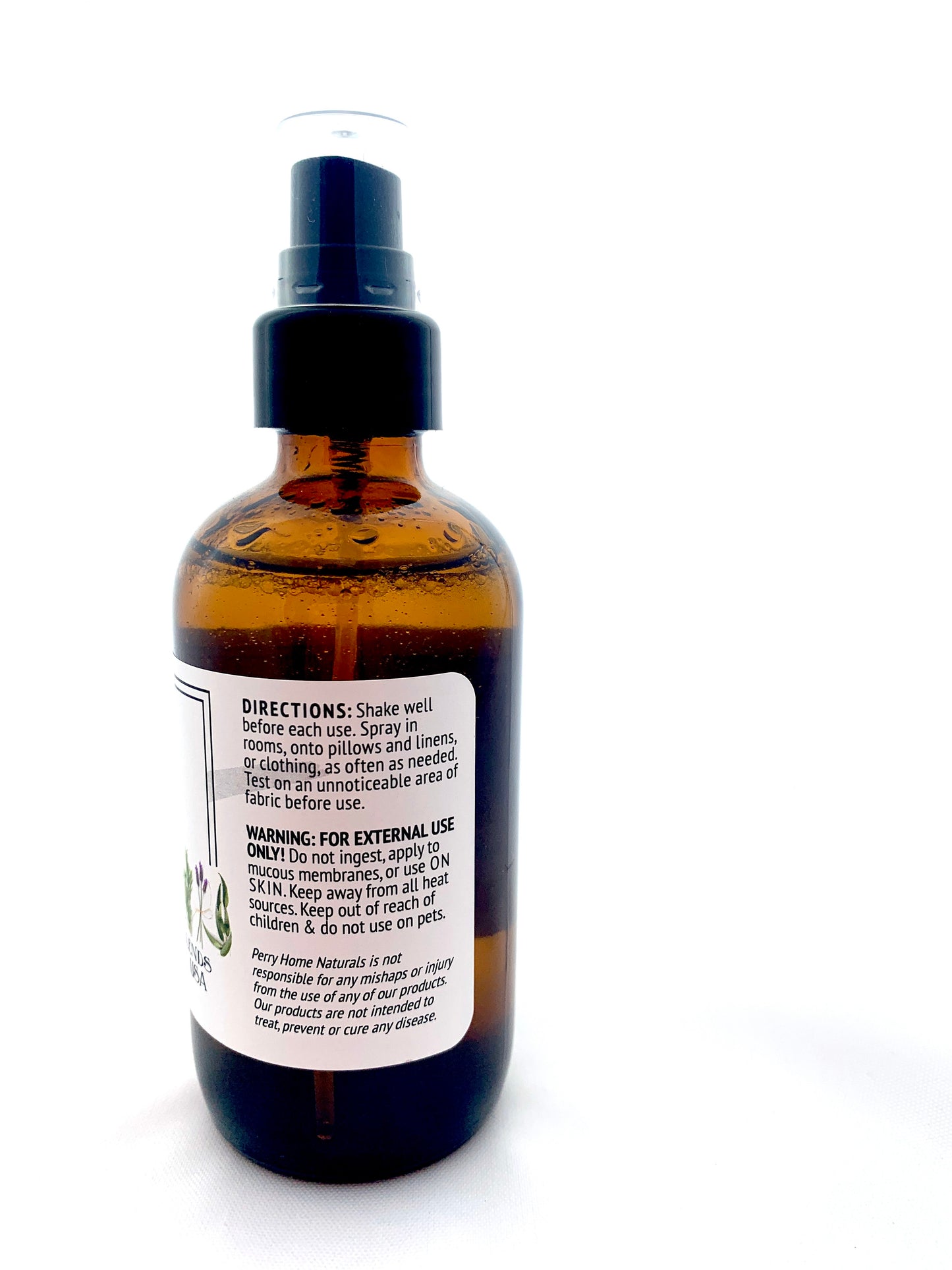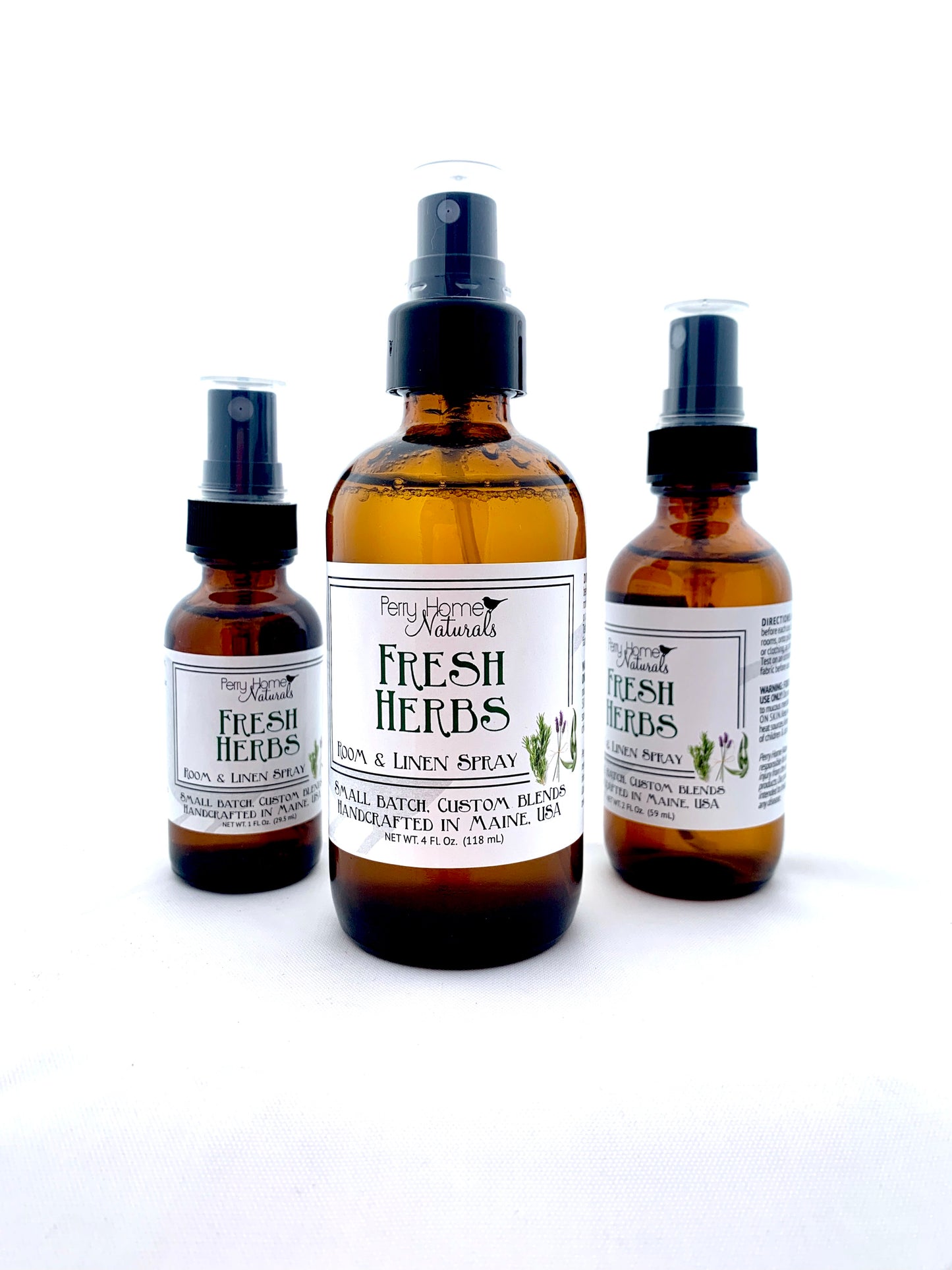 We take great pride in our handcrafted, custom-blend, small-batch sachets, eye pillows, and room & linen sprays. Our products make great gifts! If you can't choose for them, give the the gift of choice with a Perry Home Naturals gift card.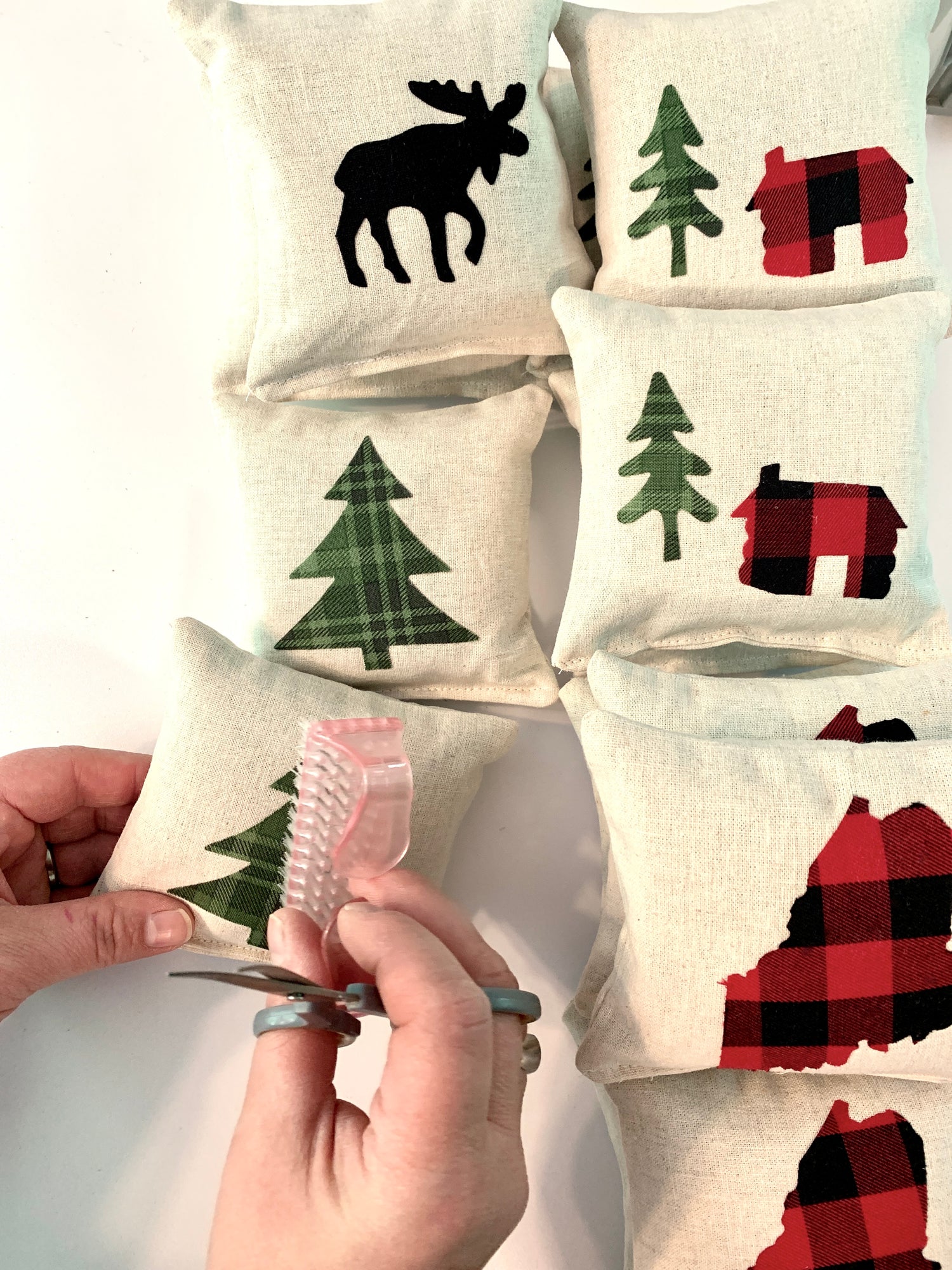 Handcrafted in Oxford, Maine